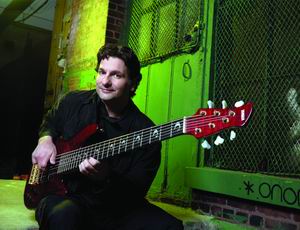 "I've always been after the musical line," says John Patitucci, referencing the title of his sixth Concord record.
The 46-year-old bassist follows that dictum through the course of a 13-piece, genre-crossing recital filled with flowing, lyrical lines that contain intriguing shapes, intoxicating beats, thrilling counterpoint, and heady improvising. Throughout, he displays idiomatic mastery of a global array of jazz dialects and the language of classical music, rendering the former with a luminous trio comprised of guitarist Adam Rogers and drum giant Brian Blade (augmented for three tunes by tenor saxophonist Chris Potter) and the latter with a world-class string quartet.
"I don't like to rest on laurels," says Patitucci, a Brooklyn native who moved to California at 12, and established bona fides on Los Angeles gigs with the likes of Tom Scott, Robben Ford, Stan Getz, Larry Carlton, Dave Grusin, Ernie Watts, Freddie Hubbard, and others, before raising his profile in 1985 on a ten-year run with Chick Corea's Elektric and Akoustic Bands and on occasional '80s and '90s jobs with Wayne Shorter. During those years, he made six solo recordings for GRP Records, earned Grammy awards for playing and for composing as well as eight Grammy nominations, hit number one on the Billboard Jazz charts for his first solo recording, John Patitucci, and became a serial poll winner for his electric and acoustic bass playing.
In 1995-96, Patitucci moved to New York, signed with Concord, and quickly established himself as a major voice in the East Coast's take-no-prisoners acoustic jazz culture. He embarked on a series of diversely themed albums on which he convened such luminaries as saxophonists Michael Brecker, Joe Lovano, Branford Marsalis, Chris Potter, Mark Turner, and Tim Ries, pianists Danilo Perez, Brad Mehldau, and Edward Simon, guitarist John Scofield, drummers Paul Motian, Jack DeJohnette, Bill Stewart, Horacio "El Negro" Hernandez, and Blade, percussionists Giovanni Hidalgo and Duduka DaFonseca, and vocalist Luciana Souza. In 1999-2000, he and Perez toured with drum master Roy Haynes in a remarkable trio; in 2000, he, Perez and Blade joined Wayne Shorter's acoustic quartet, which continues to tour the world.
Bio courtesy of Concord Music Group