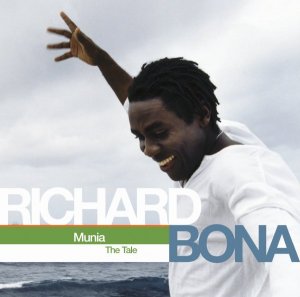 Munia (The Tale)
Richard Bona
CD
The grandson of a famous percussionist and singer, Richard Bona was born in 1967 in Minta, a village in the centre of Cameroon perched on the plateau of Adamaoua, between the small shrubs of the savannah and the virgin forest; his music, too, can be compared with the colours, twittering and profusion of the thousands of species of birds that live there. Music was his environment from the day he uttered his own first cry.

His mother and four sisters sang in the local church every Sunday, and the little boy joined them on the rostrum when he was five. Sounds, harmony and song were a genuine passion for Richard. The boy was remarkably ingenious, and not only made reed flutes for himself, but also a large balafon, wooden percussion instruments, and his own 12-string guitar. He did so with whatever he could find, like any other kid in a poor country: "I hung around the workshops where they repaired bicycles, and as soon as the guys turned their backs I'd put brake-cables in my pocket for my prototype," he laughs. He rehearsed for eight to twelve hours a day, and also spent part of his time appearing as a singer and multi-instrumentalist in a whole range of religious ceremonies, from weddings and christenings to private and public celebrations. One important detail: Richard had a highly unusual gift - he only has to look intently at someone playing, and he can learn the instrument.

He was eleven when he went to Douala with his father; the sprawling, seaport city was the second largest in the country, with almost two million inhabitants. He was quick to find his first job: as a guitarist with a dance-group "At the time, in West Africa, the guitar was the instrument in fashion; there was no salvation without it." In 1980 the French owner of a local club gave him the task of setting up a little, jazz-inspired group (with soul-jazz and jazz-rock leanings), and he was entrusted with a collection of some five hundred vinyl albums so that he could "soak in it to the maximum." So Richard discovered jazz, the freedom, complexity and virtuosity of the music invented by the American descendants of his forebears. "That's how I came across the Jaco Pastorius album, the first one, the one with his name on it, ["Jaco Pastorius", Columbia, 1976] and I never looked back. When I started listening to it I wondered for a moment if I'd got the speed wrong, I thought I was playing it at 45 rpm instead, and I even took a look. Before Jaco, I'd never thought of playing bass."

In 1989, when he was 22, the young man left the Africa for Paris, where he quickly built himself a solid reputation playing with Didier Lockwood, Marc Fosset or André Ceccarelli, and taking part in studio sessions with musicians of the stature of Manu Dibango, Salif Keita and Joe Zawinul (My People, 1992.)

Like singer Angélique Kidjo (whom he also accompanied), who'd gone to New York to live with her family, Richard crossed the ocean and settled in Manhattan. He quickly hooked up with Joe Zawinul again, and saw himself invited to accompany him on a world tour. His name began to circulate among the "pros", even more than in Paris. "New York is a 120% jazz city. As soon as a door opens, you have to jump through." Noticed in a midtown club by lyricist Jake Holmes, one of Harry Belafonte's old associates, a few weeks later Richard found himself promoted to be the latter's musical director, bassist and arranger. A "fabulous" eighteen-month adventure alongside a particularly endearing character who'd been a great friend of the late Martin Luther King, a notable, sincere combatant in the Black struggle for Civil Rights, and a major figure in "crossbred" music before his time (he'd already been mixing soul and calypso, folk and Creole song, jazz and rumba in the Sixties.)

Following that, there was a list as a contributor that looks like two pages from a phone-book, including gigs, concerts and sessions with Michael Brecker, Paul Simon, Chaka Khan, Tito Puente, Eddie Palmieri, Chucho Valdès, Mike Stern, Larry Coryell, Steve Gadd, Joni Mitchell, Harry Connick Jr., Herbie Hancock, Billy Cobham, Queen Latifah, Jacky Terrasson, Bobby McFerrin, Chick Corea, George Benson (our man even allowed himself the luxury, due to "overbooking", of refusing a tour with Eric Clapton); and Zawinul again (he sang and played bass and percussion on his albums World Tour 98 and Faces & Places released last autumn.

On the advice of Branford Marsalis, Richard was chosen to play on the first compact-disc by Frank McComb, the singer from the Buckshot Le Fonque group (the funky side of the elder of the Marsalis Brothers.) The album was produced by Columbia and a few months later, still under Branford's patronage, the label gave Richard the chance to add his first album as leader to his discography.

His debut solo album Scenes From My Life was released in 1998, and fetured the likes of Michael Brecker, Omar Hakim and Jean-Michel Pilc. It sold 30.000, an excellent score for a first album by someone so little-known to the public (a "musician's musician" in the jargon), also a score for a record more usually found in the jazz and African bins, depending on the store, which aren't necessarily the most visited. One might mention some of the comments greeting this record at the time: "We don't like showing we're impressed by the last kid to be discovered in New York. But even the most recalcitrant change their minds when the kid's Richard Bona." ('Newsweek'.) "An unexpected masterpiece, the birth certificate of an artist who prefers to sing rather than knit the ready-to-wear suits of the most gifted bassist of his generation." (Gérald Arnaud in 'Jazzman'.) "Richard Bona is a great singer, not a great bassist who sings. A singer and a composer. Richard Bona has just made a great record. A record of great diversity." (Jackie Berroyer in 'Vibrations'.)

If this album came as a surprise, it was first of all because our friend, a staunch Jaco Pastorius fan, allows himself the luxury of not playing a single note on the bass. "Music doesn't stop at a bass solo," he says, "demonstrations aren't in my temperament. In France people have heard of me essentially as an accompanist. Who'd have let me sing? Fact is, I've been a singer since I was a child, and here I was given that chance." Wrapped in pared-down arrangements, and stealthily carried by his striking voice, these twelve songs moved along without the slightest ostentation to insinuate themselves softly between the listener's neurons.

Reverence (autumn 2001), his second Columbia outing, was more intimate, and confirmed the hopes placed in Scenes From My Life; it was a gracious salute addressed to the world, and dealt with problems and personal good fortunes as universal subjects: faith, communication between human beings. Better than that, the young man threw out a real call for people to live things more slowly, and so take fuller advantage of life.

Now we're back to French production, for Universal Jazz France will now be managing Richard Bona's discography. Munia is a multiple, dancing work of absolute freshness, perhaps the most eclectic, thrilling album by Richard Bona (who, besides singing, composing and arranging, plays bass and piccolo bass, acoustic and electric guitars, synthesisers, Vocoder, keyboards and percussion.) "In New York, where I live with my son Leo, [three and a half years old] I feed on any number of things outside my own culture."

Munia with its eleven titles in collaboration with notable drummer Nathaniel Townsley, keyboardist George Whitty, pianist George Colligan and saxophonist Aaron Heick, is the best translation of this frame of mind, undulating from one genre to another, yet it never interrupts one's listening (reminding us that labels suit retailers more than they do creators!). Bona has several notable guests: Kenny Garrett on alto saxophone and Vinnie Colaiuta on drums (on the very jazzy 'Painting A Wish'), Salif Keita (vocals), Djely Moussa Conde (kora) and Bailo Ba (traditional flutes) on the brisk 'Kalabancoro', or the acoustic, subtly virtuoso guitar of Romero Lubambo on the very lively, cheerful bossa nova 'Bona Peti't'(one of the rare pieces on which Bona sings in French). There's also a perfect tropical rock title, ('Balemba na Bwemba'), two ballads so divine that they bring tears to your eyes ('Dina Lam' and 'Muto Bye Bye'), a brilliant rumba from the Equator ('Couscous') and a delicious piece with a fusion tone ('Engingilaye'). Taken together, with Richard Bona, we once again have material that's a pure marvel. There's nothing to add.

Is latest album is Tiki another set bursting with the kind of intuitive brilliance his fans have come to expect – yet seemingly bnecomg more refined and focused on each successive recording. With his new album, Richard Bona gives us the full dimension of his exceptional talents in an apparently paradoxical, two-fold movement - one that combines introspective clarity with a renewed sense of openness towards the infinitely plural nature of our world today and he does this with the simplicity of means and obviousness of expression that are the characteristics of masterpieces.

Surrounded by old accomplices ATN Stadwijk on keyboards and Vinnie Colauita on drums he's also joined by some exceptional guests performers including Susheela Raman, Djavan, Mike Stern and Gil Goldstein. Richard delights in exploring his many musical playgrounds and imaginary territories without the journey ever lapsing into a travelogue. There's Africa, of course, a land of myths and intimacy, both ancestral and ultra-contemporary; there's also the extraordinary cosmopolitan feel of the great cultural capitals of our global village, with a soundtrack that borrows as much from jazz as it does from Afro-Cuban rhythms, from the precious suavity of Brazil's harmonies as much as from the energy of rap, and from the grooving nonchalance of the Caribbean as much as from the extreme precision of Anglo-Saxon pop.

It is this extraordinary diversity and multiplicity of influences, this swarming mass of simultaneous identities, that Richard Bona today manages to express so masterfully in his music, and he does it without sacrificing any of his style to a kind of baroque one-upmanship. Quite the contrary: never has his exceptional virtuosity seemed so under control, so channeled into a single musicality; never have his talents as a composer been so incarnate obvious, so spontaneous. Never have his arrangements been so uncluttered, while losing none of their richness and sensuality. Between jazzy ballads like 'Esoka Bulu' and sambas revisited 'Akwa Samba Yaya', to a dreamlike tribute to Jaco Pastorius on 'Three Women', to an African nursery rhyme 'Ida Bato', Tiki, is without a doubt, Richard Bona's album of maturity.