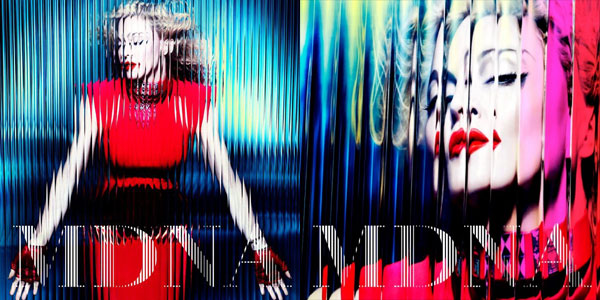 Dal 26 Marzo nei negozi e in digital download MDNA, il nuovo album di Madonna!

MDNA, registrato tra New York e Los Angeles, è stato scritto e prodotto da Madonna insieme a William Orbit (già suo collaboratore per il disco "Ray of Light"), Martin Solveig, The Demolition Crew, Benny e Alle Benassi, Hardy Indiigo Muanza.

MDNA sarà disponibile in due versioni:
- standard version con 12 pezzi
- deluxe version, con 2 CD contenenti l'album standard più altre 4 canzoni inedite e il LMFAO Party Rock Remix di "Give Me All Your Luvin'".

L'album vanta collaborazioni con Nicki Minaj (Give Me All Your Luvin', I Don't Give A), M.I.A.(Give Me All Your Luvin', B-day song), LMFAO, Mika (coautore di un brano), Klas Ahlund (Girls on Film) e Joe Henry (cantautore, cognato di Madonna e co-autore di un brano - ha anche scritto in passato Don't Tell Me, Jump, Devil Wouldn't Recognize You).

Preordina "MDNA (Deluxe version)" su iTunes!