#FILM #ALBUM #CONCERTO #FESTA #THEROLLINGSTONES

UN EVENTO LEGGENDARIO RIMASTERIZZATO E AMPLIATO
THE ROLLING STONES
Il nuovo ROCK AND ROLL CIRCUS!
Dicembre 1968, Nord di Londra: siamo in uno studio televisivo, i Rolling Stones – nella loro formazione originale – stanno girando uno speciale per promuovere sui canali della BBC il loro album "Beggars Banquet". Con la formazione originale dei Rolling Stones (Mick Jagger, Keith Richards, Brian Jones, Charlie Watts, Bill Wyman) ci sono anche The Who, Jethro Tull, Taj Mahal, Marianne Faithfull, il super-gruppo The Dirty Mac (John Lennon, Keith Richards, Mitch Mitchell, Eric Clapton) e Yoko Ono. Alla regia c'è Michael Lindsay-Hogg (Let It Be, Ready Steady Go!), con Tony Richmond (Sympathy For The Devil / ONE PLUS ONE, Let It Be).
Gli Stones e i loro ospiti si esibiscono davanti a una felliniana scenografia circense. Il pubblico è composto da membri del fan club, vincitori di concorsi e amici. Nasce così il leggendario 'ROCK AND ROLL CIRCUS': una performance incredibile, come incredibili sono gli Artisti che ne hanno preso parte. La festa, perché di festa si tratta, è rimasta inedita fino alla prima pubblicazione nel 1996.
You Can't Always Get What You Want
Ma questo è solo l'inizio...
scopri tutti i formati della riedizione 2019 di "Rock and Roll Circus".
Deluxe Edition in Edizione Limitata, Blu-ray, DVD, 2CD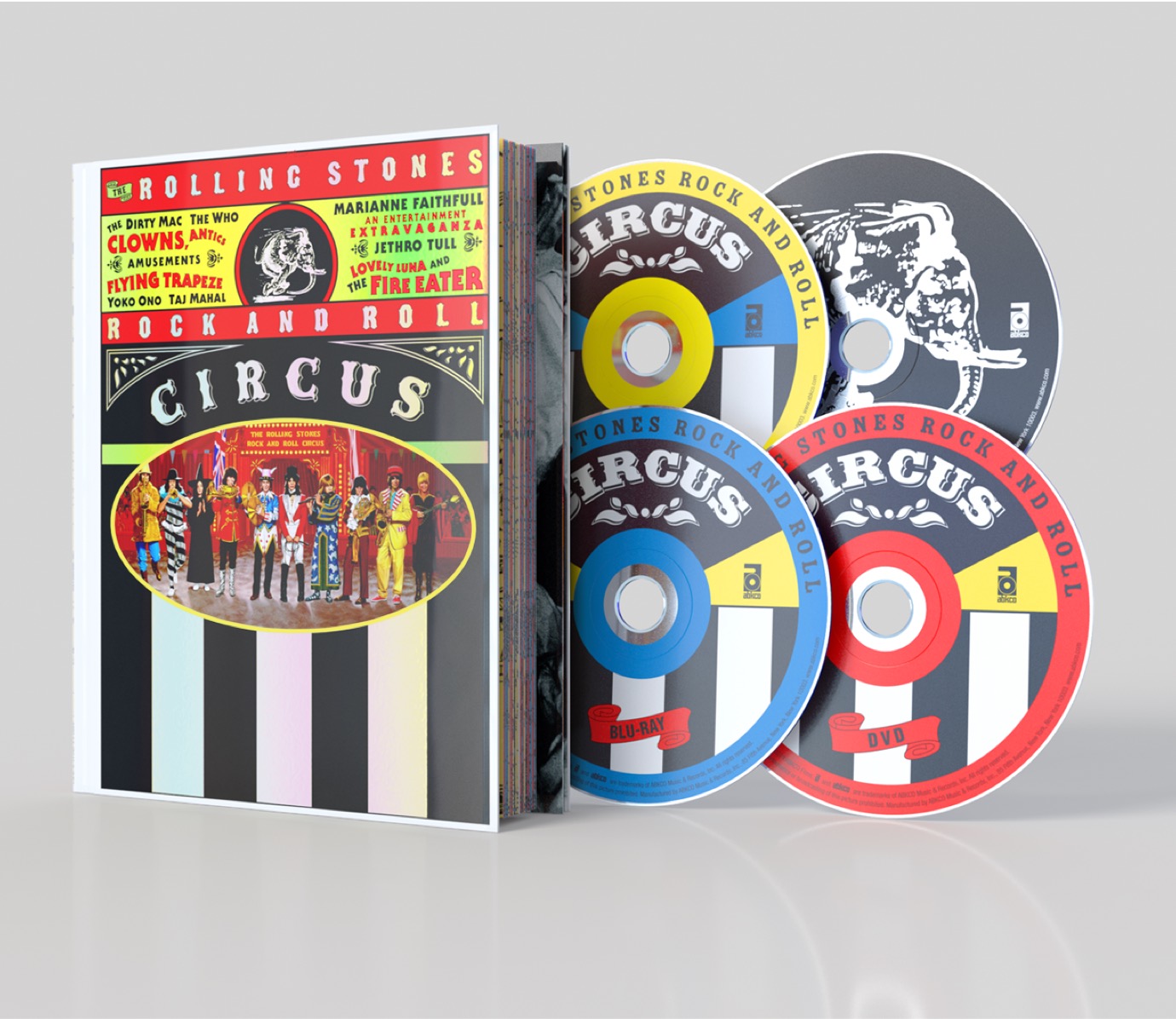 28 TRACCE AUDIO
NUOVO MIX HD
REGISTRAZIONI INEDITE DEI DIRTY MAC + BONUS TRACK
PRIMO VIDEO D'ARCHIVIO MIXATO CON TECNOLOGIA DOLBY ATMOS E DOLBY VISION
BRANI DI COMMENTO DI MICK JAGGER, KEITH RICHARDS, TONY RICHMOND, MICHAEL LINDSAY-HOGG, YOKO ONO E MARIANNE FAITHFULL
INTERVISTA A PETE TOWNSHED DEGLI WHO
BOOK DI 44 PAGINE CON TESTO DI DAVID DALTON E FOTO DI MICHAEL RANDOLF
THE ROLLING STONES ROCK AND ROLL CIRCUS (4K FILM)
THE FILM
Song For Jeffrey - Jethro Tull
A Quick One While He's Away - The Who
Ain't That A Lot Of Love - Taj Mahal
Something Better - Marianne Faithfull
Yer Blues - The Dirty Mac
Whole Lotta Yoko - Yoko Ono & Ivry Gitlis, and The Dirty Mac
Jumpin' Jack Flash - The Rolling Stones
Parachute Woman - The Rolling Stones
No Expectations - The Rolling Stones
You Can't Always Get What You Want – The Rolling Stones
Sympathy for the Devil - The Rolling Stones
Salt Of The Earth - The Rolling Stones
EXTRAS
Widescreen Feature, Aspect Ratio: 16:9 (65 min)
Pete Townshend Interview, Aspect Ratio: 4x3 (18 min)
The Dirty Mac:
'Yer Blues' Tk2 Quad Split, Aspect Ratio: 4x3 (5:43)
Taj Mahal:
-Checkin' Up On My Baby, Aspect Ratio: 4x3 (5:37)
-Leaving Trunk, Aspect Ratio: 4x3 (6:20)
-Corinna, Aspect Ratio: 4x3 (3:49)
Julius Katchen:
-de Falla: Ritual Fire Dance, Aspect Ratio: 4x3 (6:30)
-Mozart: Sonata In C Major-1st Movement, Aspect Ratio: 4x3 (2:27)
Mick & The Tiger/ Luna & The Tiger, Ratio: 4x3 (1:35)
Bill Wyman & The Clowns, Aspect Ratio: 4x3 (2:00)
Lennon, Jagger, & Yoko backstage, Aspect Ratio: 4x3 (45sec)
FILM COMMENTARY TRACKS:
Life Under The Big Top (Artists) Featuring: Mick Jagger, Ian Anderson, Taj Mahal, Yoko Ono, Bill Wyman, Keith Richards (65 min)
Framing The Show (Director & Cinematographer) Featuring: Michael Lindsay Hogg, Tony Richmond (65 min)
Musings (artists, writer, fan who was there) Featuring: Marianne Faithfull, David Dalton, David Stark (50 min)
THE ROLLING STONES ROCK AND ROLL CIRCUS EXPANDED AUDIO EDITION
1. Mick Jagger's Introduction Of Rock And Roll Circus - Mick Jagger
2. Entry Of The Gladiators - Circus Band
3. Mick Jagger's Introduction Of Jethro Tull - Mick Jagger
4. Song For Jeffrey - Jethro Tull
5. Keith Richards' Introduction Of The Who - Keith Richards
6. A Quick One While He's Away - The Who
7. Over The Waves - Circus Band
8. Ain't That A Lot Of Love - Taj Mahal
9. Charlie Watts' Introduction Of Marianne Faithfull - Charlie Watts
10. Something Better - Marianne Faithfull
11. Mick Jagger's and John Lennon's Introduction Of The Dirty Mac
12. Yer Blues - The Dirty Mac
13. Whole Lotta Yoko - Yoko Ono & Ivry Gitlis with The Dirty Mac
14. John Lennon's Introduction Of The Rolling Stones + Jumpin' Jack Flash - The Rolling Stones
15. Parachute Woman - The Rolling Stones
16. No Expectations - The Rolling Stones
17. You Can't Always Get What You Want - The Rolling Stones
18. Sympathy for the Devil - The Rolling Stones
19. Salt Of The Earth - The Rolling Stones
BONUS TRACKS
20. Checkin' Up On My Baby - Taj Mahal
21. Leaving Trunk - Taj Mahal
22. Corinna - Taj Mahal
23. Revolution (rehearsal) - The Dirty Mac
24. Warmup Jam - The Dirty Mac
25. Yer Blues (take 2) - The Dirty Mac
26. Brian Jones' Introduction of Julius Katchen - Brian Jones
27. de Falla: Ritual Fire Dance - Julius Katchen
28. Mozart: Sonata In C Major-1st Movement - Julius Katchen
2CD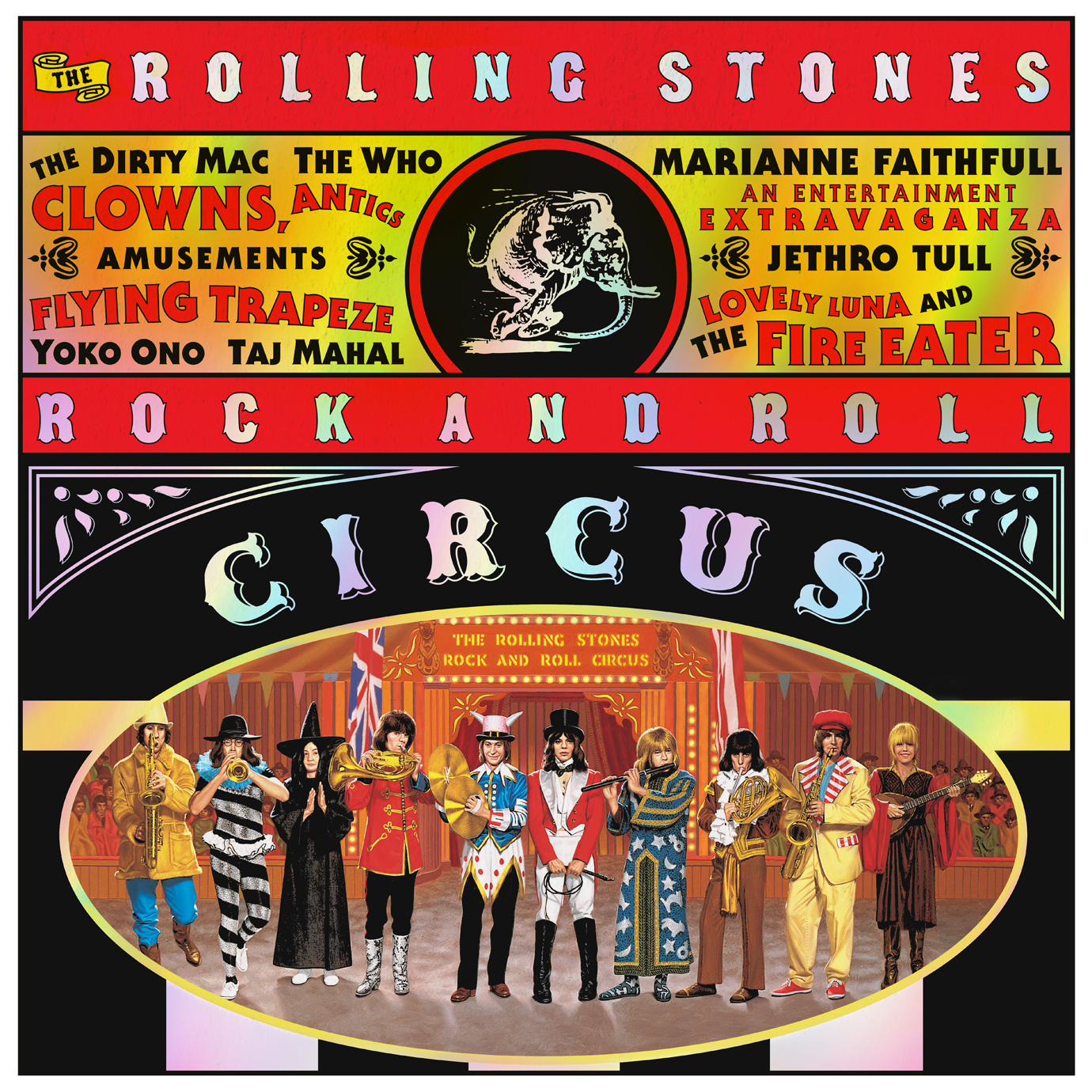 28 TRACCE AUDIO
NUOVO MIX HD
REGISTRAZIONI INEDITE DEI DIRTY MAC + BONUS TRACK
THE ROLLING STONES ROCK AND ROLL CIRCUS EXPANDED AUDIO EDITION
1. Mick Jagger's Introduction Of Rock And Roll Circus - Mick Jagger
2. Entry Of The Gladiators - Circus Band
3. Mick Jagger's Introduction Of Jethro Tull - Mick Jagger
4. Song For Jeffrey - Jethro Tull
5. Keith Richards' Introduction Of The Who - Keith Richards
6. A Quick One While He's Away - The Who
7. Over The Waves - Circus Band
8. Ain't That A Lot Of Love - Taj Mahal
9. Charlie Watts' Introduction Of Marianne Faithfull - Charlie Watts
10. Something Better - Marianne Faithfull
11. Mick Jagger's and John Lennon's Introduction Of The Dirty Mac
12. Yer Blues - The Dirty Mac
13. Whole Lotta Yoko - Yoko Ono & Ivry Gitlis with The Dirty Mac
14. John Lennon's Introduction Of The Rolling Stones + Jumpin' Jack Flash - The Rolling Stones
15. Parachute Woman - The Rolling Stones
16. No Expectations - The Rolling Stones
17. You Can't Always Get What You Want - The Rolling Stones
18. Sympathy for the Devil - The Rolling Stones
19. Salt Of The Earth - The Rolling Stones
BONUS TRACKS
20. Checkin' Up On My Baby - Taj Mahal
21. Leaving Trunk - Taj Mahal
22. Corinna - Taj Mahal
23. Revolution (rehearsal) - The Dirty Mac
24. Warmup Jam - The Dirty Mac
25. Yer Blues (take 2) - The Dirty Mac
26. Brian Jones' Introduction of Julius Katchen - Brian Jones
27. de Falla: Ritual Fire Dance - Julius Katchen
28. Mozart: Sonata In C Major-1st Movement - Julius Katchen
3LP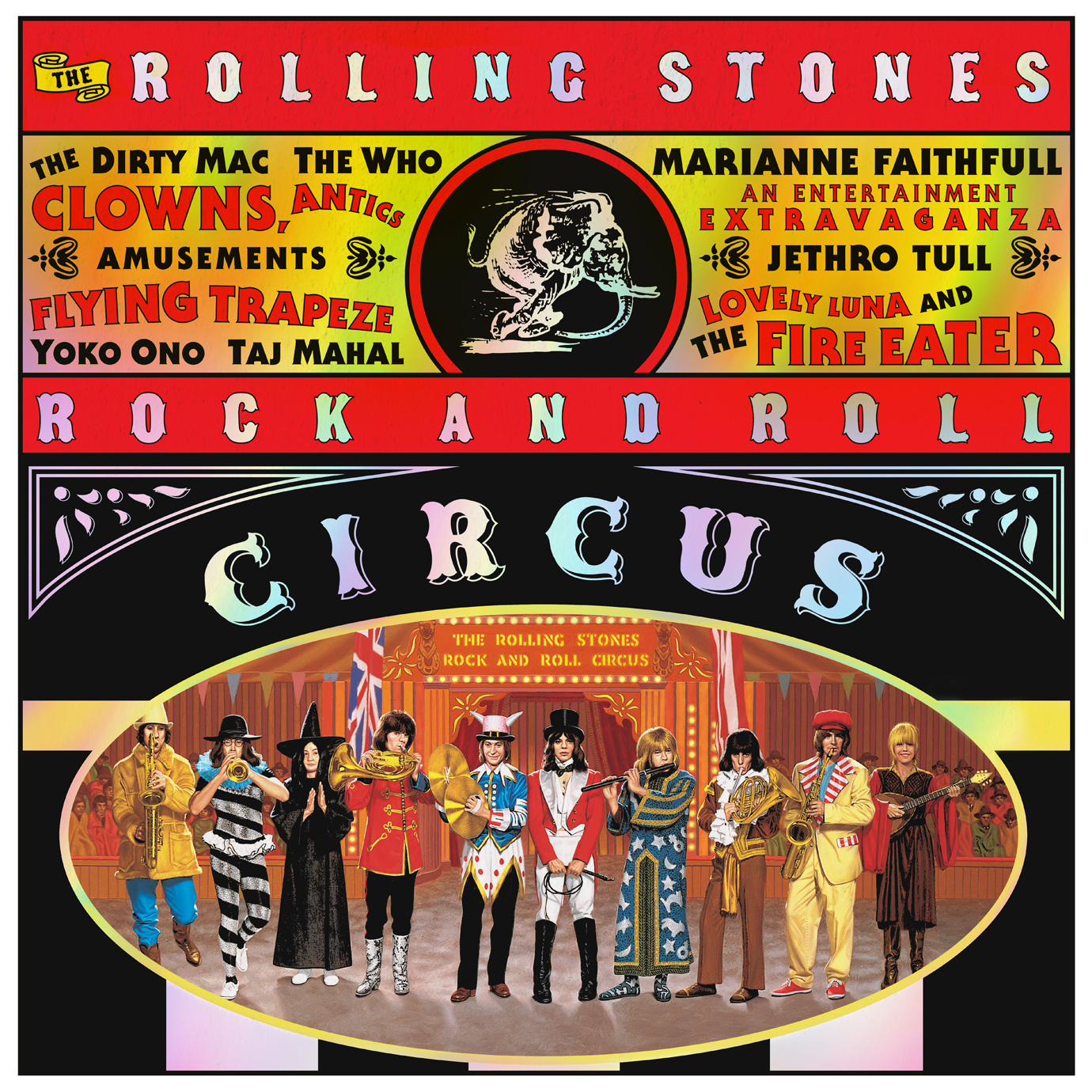 28 TRACCE AUDIO
NUOVO MIX HD
REGISTRAZIONI INEDITE DEI DIRTY MAC + BONUS TRACK
THE ROLLING STONES ROCK AND ROLL CIRCUS EXPANDED AUDIO EDITION
1. Mick Jagger's Introduction Of Rock And Roll Circus - Mick Jagger
2. Entry Of The Gladiators - Circus Band
3. Mick Jagger's Introduction Of Jethro Tull - Mick Jagger
4. Song For Jeffrey - Jethro Tull
5. Keith Richards' Introduction Of The Who - Keith Richards
6. A Quick One While He's Away - The Who
7. Over The Waves - Circus Band
8. Ain't That A Lot Of Love - Taj Mahal
9. Charlie Watts' Introduction Of Marianne Faithfull - Charlie Watts
10. Something Better - Marianne Faithfull
11. Mick Jagger's and John Lennon's Introduction Of The Dirty Mac
12. Yer Blues - The Dirty Mac
13. Whole Lotta Yoko - Yoko Ono & Ivry Gitlis with The Dirty Mac
14. John Lennon's Introduction Of The Rolling Stones + Jumpin' Jack Flash - The Rolling Stones
15. Parachute Woman - The Rolling Stones
16. No Expectations - The Rolling Stones
17. You Can't Always Get What You Want - The Rolling Stones
18. Sympathy for the Devil - The Rolling Stones
19. Salt Of The Earth - The Rolling Stones
BONUS TRACKS
20. Checkin' Up On My Baby - Taj Mahal
21. Leaving Trunk - Taj Mahal
22. Corinna - Taj Mahal
23. Revolution (rehearsal) - The Dirty Mac
24. Warmup Jam - The Dirty Mac
25. Yer Blues (take 2) - The Dirty Mac
26. Brian Jones' Introduction of Julius Katchen - Brian Jones
27. de Falla: Ritual Fire Dance - Julius Katchen
28. Mozart: Sonata In C Major-1st Movement - Julius Katchen