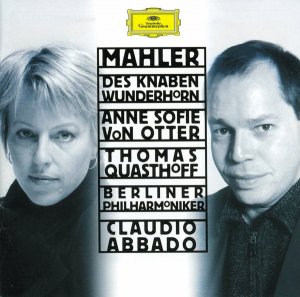 Mahler: Des Knaben Wunder...
Anne Sofie von Otter, Thomas Quasthoff, Berliner Philharmoniker
CD
Mahler: Des Knaben Wunderhorn
SCOPRI
Thomas Quasthoff was born in Hildesheim, Germany in 1959 and began his musical studies in Hanover in 1972, studying singing with Prof. Charlotte Lehmann and music theory and history with Prof. Ernst Huber-Contwig. Heralded by the press as "one of the great singers of our time and certainly one of the most remarkable of any time" (Los Angeles Times), he has worked with the most renowned orchestras and conductors worldwide at all the prestigious houses and festivals. His national and international awards include first prize at the 1988 ARD International Music Competition, the Shostakovich Prize 1996, and the Hamada Trust/Scotsman Festival Prize 1996. In November 2004 he was honoured by his native town of Hildesheim with its Ring of Honour and in October 2005 he received the Order of Merit of the Republic of Germany. Thomas Quasthoff took up an appointment as professor in the vocal department of Detmold Musikhochschule, Germany in 1996 and moved to Berlin in November 2004 to teach at the Hanns Eisler Hochschule für Musik.

1998
Appearances during the 1998/99 ­season include his New York recital ­debut, Mahler's Des Knaben Wunderhorn with the New York Philharmonic conducted by Sir Colin Davis, Mahler's Das Lied von der Erde with the Bos­ton Symphony under Seiji Ozawa, Brahms's Requiem with the Chicago Symphony and Daniel Barenboim, Mozart arias with the Berliner Philharmoniker under Sir Simon Rattle and Berlioz's Damnation of Faust with the Con­certgebouw Orchestra under Bernard Haitink.

1999
Signs exclusive recording contract with Deut­sche Grammo­phon; first release: Mah­ler's Des Knaben Wunderhorn (with Anne Sofie von Otter, the Berliner Philharmoniker and Claudio Abbado; Grammy Award, 2000); debuts at the Ravinia, Tanglewood and Mostly Mo­zart festivals; highlights of the 1999/2000 season include his Carnegie Hall debut in Britten's War Requiem with the Boston Symphony and Ozawa, Beet­hoven's Ninth Symphony under Sir Simon Rattle with both the Wie­ner Philharmoniker and the City of Birmingham Symphony orchestras and Brahms's Requiem with the London Philharmonic under Kurt Masur; European and US recital tours.

2000
CD releases include lieder by Brahms and Liszt (with pianist Justus Zeyen; Cannes Clas­sical Award, 2001) and Beethoven's Ninth Symphony (with Abbado and the Berliner Phil­harmo­niker).

2001
Performs and records German Ro­mantic arias with Christian Thielemann and the Orchestra of the Deut­sche Oper (released in 2002); other appearances include Schoenberg's Gurre­­­lieder under Rattle in Berlin and Mahler's Wunderhorn under Abbado at Carnegie Hall, New York; CD release of Schubert's Schwanengesang and Brahms's Four Serious Songs (Echo Award, 2001).

2002
Appearances in­clude Schumann's Scenes from "Faust" under Abbado and Bach's St. John ­Passion under Rattle, both with the Berliner Philharmoniker, Mahler song cycles under Kent Nagano at London's Barbican Centre, Bach cantatas in the US and with the Berlin Baroque So­loists at the Salzburg Easter Festival, Elgar's Dream of Gerontius in Munich under Mehta, Mahler's Wunderhorn songs with the Los Angeles Philharmonic under Esa-Pekka Salonen at the Hollywood Bowl and Edinburgh Festival and Haydn's Creation under Franz Welser-Möst; recital tours of Europe and the US.

2003
First opera engagement in Beet­hoven's Fidelio (Don Fernando) with the Ber­liner Philhar­mo­niker under Rattle in Berlin and at the Salz­burg East­er ­Fes­tival; concerts include Mah­ler's Wayfarer songs with the Wiener Philharmoniker under Boulez (also recorded by DG); recital tours include Vienna's Musikverein and Kon­zerthaus, New York's Carnegie Hall, Brussels' Théâtre de la Monnaie and the Verbier and Edinburgh festivals; CD ­release of Schubert songs orchestrated by famous composers (with Anne Sofie von Otter, Claudio Abbado and the Chamber Orchestra of Europe – Grammy Award, 2004 "Best Vocal Performance").

2004
Vienna State Opera debut (Amfortas in Wagner's Par­­sifal, under Donald Runnicles) and first Salzburg Festival lieder recital; other appearances include Frank Martin's Jedermann Monologue with Abbado and the Berliner Philharmoniker; concerts with the New York Philharmonic including Mozart arias under Muti and Haydn's Creation under Maazel, Mendelssohn's Elijah under Welser-Möst, Mahler's Kin­dertoten­lieder with Eschenbach and his Way­farer songs with Levine at the Verbier Festival, a benefit concert with the Berlin Philharmonic Jazz Group and a tour of ­Europe with Schubert's Winterreise. Releases include A Romantic Songbook (Echo Award, 2004; Orphée d'or, 2005), with lieder by Schubert, Schumann, Mendelssohn, Loewe, Wolf and Richard Strauss (with Justus Zeyen) and Bach cantatas with the Berlin Ba­roque Soloists (Midem Classical Award, Klassik-Amadeus Award, 2005; Grammy Award, BBC Music Magazine Award, 2006).

2005
Further Parsifal performances at the Vienna State Opera (under Rattle); Bach's B minor Mass with the Zurich Opera Orchestra and Elijah with the Wiener Philharmoniker (under Welser-Möst), Shostakovich's Symphony no. 14 with Rattle and the Berliner Philhar­moniker, Britten's War Requiem in Vienna, Mozart arias with the Frei­burg Baroque Orchestra in ­Vienna, Paris and London, Mahler's Kindertoten­lieder under Metzmacher in Hamburg and Bach cantatas with the Berlin Baroque Soloists on tour in Germany and Austria. CD releases: Mahler song cycles with Boulez and the Wiener Philharmoniker and Schubert's Die schöne Müllerin (with Justus Zeyen); on DVD: Schubert's Winterreise (with Barenboim).

2006
Engagements include Mozart arias (in Vienna under Plácido Domingo, in Salzburg under Daniel Harding, in the Carnegie Hall under Welser-Möst, and in Berlin under Barenboim, as well as with pianist Justus Zeyen), Bach's St. John Passion and Brahms's Requiem with Rattle and the Berliner Phil­harmoniker, orchestral songs by Pfitzner with Thielemann and Mah­ler's Kindertotenlieder under Barenboim in Chicago; recitals include Carnegie Hall, the Lu­cerne Festival and Munich, Die schöne Müllerin and Winterreise at the Schubertiade; Beet­hoven's Ninth Symphony at the Verbier Festival; Schubert songs with Dorothea Rösch­mann, Ian Bost­ridge and pianist Julius Drake. Quast­hoff is awarded Il Canto del mondo's Culture Award. CD releases: Betrachte, meine Seel – sacred arias by Bach, Handel, Haydn and Mendels­sohn, and The Mozart Album – a selection of arias and duets sung by Deutsche Grammophon's star singers.

2007
Concert engagements include Mahler's Kindertotenlieder with the Philadelphia Symphony Orchestra under Christoph Eschenbach in New York's Carnegie Hall, Haydn's The Creation with the Ber­liner Philharmoniker under Rattle in Berlin, Mozart's Requiem with the Dresden Staats­kapelle and Zubin Mehta in Dresden's Semperoper; Mah­ler song cycles with the Staatskapelle Berlin and Barenboim, and Bach cantatas with the Berlin Ba­roque Soloists. Recitals of Wolf's Italienisches Liederbuch (with Dorothea Röschmann), Schu­bert's Die schöne Müllerin, Schumann's Lieder­kreis and Brahms Die schöne Magelone accompanied by pianist Justus Zeyen. Jazz concerts with trumpeter Till Brönner at the Car­negie Hall, in Vienna, Co­logne and Berlin. His jazz album, made with Till Brönner, Chuck Loeb, Alan Broadbent, Dieter Ilg and Peter Erskine, will be released in the spring. A further CD of Bach cantatas with Dorothea Rösch­mann and the Berlin Baroque Soloists is planned for the ­autumn.